The scheme of the sphygmomanometer adopts the oscillometric method. On the measurement principle of the oscillometric method, the inflatable cuff is still used to block the blood flow of the upper arm artery. Due to the hemodynamic effects of cardiac pulsation, pressure fluctuations synchronized with cardiac pulsation, known as pulse waves, are superimposed on the pressure of the airbag. When the airbag pressure is much higher than the systolic pressure, the pulse wave disappears. As the pressure on the cuff decreases, a pulse begins to appear. When the cuff pressure drops from above systolic blood pressure to below systolic blood pressure, the pulse wave will suddenly increase. When the average pressure is reached, the peak value is reached. Then it decays as the cuff pressure decreases.
During the measurement process, the sphygmomanometer can measure the pressure and fluctuation of blood flow through the blood vessels. After receiving these fluctuations, the pressure sensor amplifies them and outputs the measurement results on the LCD screen.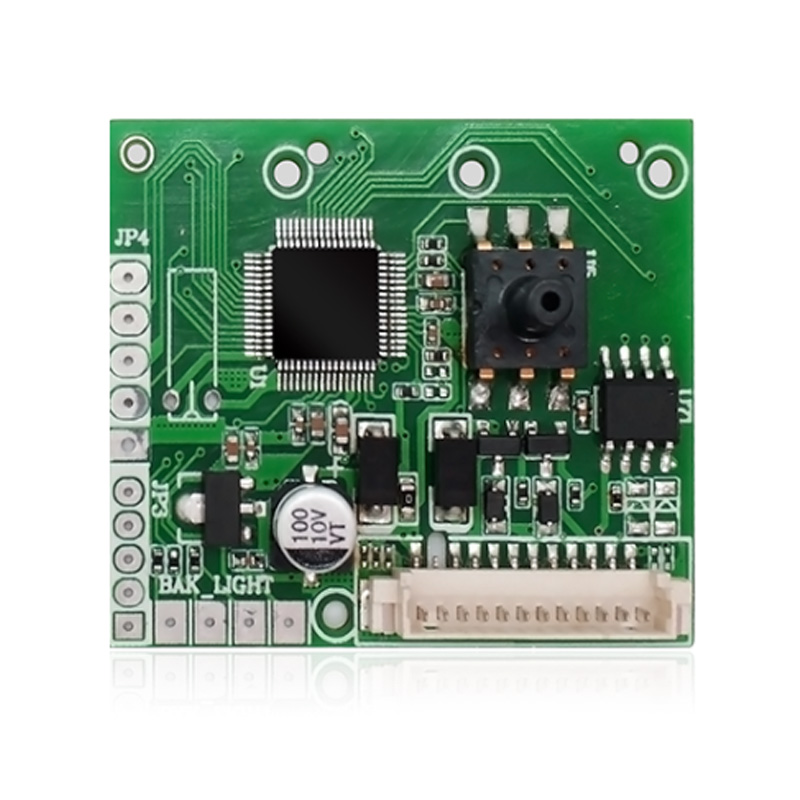 The composition of the function module in the scheme design of the intelligent sphygmomanometer, the pressure sensor and the signal conditioning circuit are responsible for measuring the air pressure value in the inflatable cuff, converting the air pressure value into a signal and sending it to the control unit. The driving circuit is responsible for assisting the main control unit in amplifying the output signal and transmitting it to the control power element, used to achieve the inflation and deflation functions of the cuff. The main control unit is responsible for the coordination and synchronization of each functional unit of the intelligent sphygmomanometer in the whole measurement process, with data processing capability, and can realize the conversion between the pressure value and the displayed value. The LCD display and function key unit provide a good human-computer interaction environment, and can display the results on the LCD panel according to user requirements.
The electronic sphygmomanometer scheme has the characteristics of accurate measurement, voice broadcast results, large screen, clearer display, more stable algorithm after a large number of clinical tests, etc. It has the effect of remote monitoring, can quickly feedback the measurement results, and the measurement data can be instantly uploaded to the cloud through wireless communication, and synchronized to the mobile phone in real time. You can also invite other family members to participate in parents' health management, achieving family sharing, and paying attention to parents' health no matter where you are. For such solutions, development and design can be carried out according to the customer's needs, and samples can be provided in a short period of time for customers to test their functionality. And as a solution provider, it can stably supply electronic sphygmomanometer chips.
The company can design the intelligent sphygmomanometer scheme according to the customer's functions and other requirements, and has technology development experience in the field of control board chips, which can provide customers with cost-effective intelligent sphygmomanometer design.