In the measurement process based on the oscillographic method, an inflatable cuff is used to block the blood flow of the trick artery. Due to the hemodynamic effect of the heart beat, the pressure that is synchronized with the heart beat will be stacked and shaken on the cuff pressure, known as pulse waves. In the traditional step-down measurement process, the air pump first fills the sleeve to a pressure slightly higher than blood pressure, and then slowly depressurizes through a slow air leakage valve. During the depressurization process, pulse wave signals are collected. In the process of step-down measurement, the principle of measurement is the same as that of step-down measurement, except that the slow step-down process is changed to a constant rate of pressure, and pulse wave signals are collected during the pressure process. Through the selection of a stable inflation pump and the automatic control of software algorithms, the air pressure inside the sleeve rises steadily and uniformly. In the process of the cuff pressure slowly rising from zero, the pulse wave signal intensity superimposed on it will experience a process of first reaching zero, then gradually presenting, then becoming strong from weak, reaching the maximum value, then becoming weak from strong, and finally disappearing completely.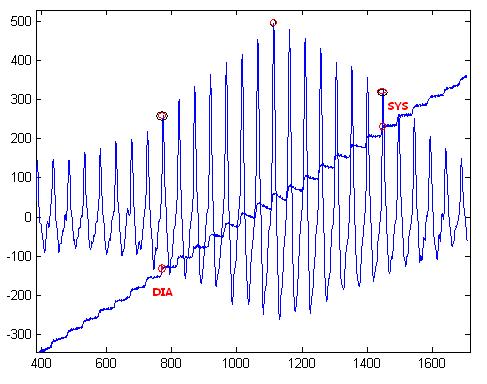 Pulse wave representation diagram
Oscillographic blood pressure measurement is based on the relationship between pulse wave amplitude and cuff pressure to calculate blood pressure. The cuff pressure corresponding to the maximum value of the pulse wave is uniform pressure, while the systolic and diastolic pressures correspond to the proportion of the maximum amplitude of the pulse wave when the pulse intensity weakens and strengthens, respectively. This process is automatically completed by a dedicated chip. Simultaneously, the corresponding pulse value is obtained by calculating the frequency of the pulse wave.
Compared with step-down measurement, step-up measurement has the following obvious advantages:
1. It prevents measurement errors caused by the nonlinear leakage speed of the pressure reducing mechanical slow leakage valve.
2. The measurement time has been shortened, the maximum pressure inside the wrist strap has been reduced, and the accuracy is also relatively high, resulting in a more warm user experience.
Our step-up sphygmomanometer planning algorithm has been stable and mature, welcome new and old customers to negotiate business opportunities.